CIMsystem at IDS: Register now for our conference sessions!
March, 2023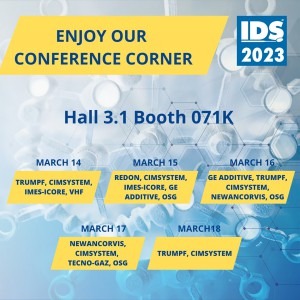 A pretty-packed conference agenda is now available! DOWNLOAD the amazing conference program. At least 8 speeches per day will take place at CIMsystem booth involving the CIMsystem Technical Experts as well as technological partners such as: VHF, Redon, NewAncorvis, DGSHAPE, TRUMPF, GE Additive, OSG, Imes-icore and Tecno-Gaz.
As mentioned, the stage will be the CIMsystem booth, located in Hall 3.1, booth 071K. Besides the partnered news, CIMsystem will be happy to present also its own innovations like the new functionality of aligner cutting via MillBox Milling CAM, the integrated process between the 3D printing software Pyramis and the refining milling software Make&Mill and FileHub, the new born product developed to optimize dental laboratory operational management.
JOIN US at IDS on March 2023! Participate in our conference sessions and Register NOW!