MEET US AT IDS 2023!
February, 2023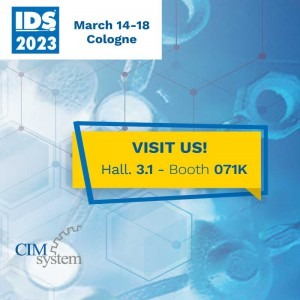 CIMsystem is happy to announce its participation at IDS trade show taking place in Cologne, Germany on March 14th-18th. The premier dental global trade show is going to celebrate its first century anniversary and CIMsystem will enjoy of this celebration gathering lots of partners at the booth and presenting exciting news in CAM software development.
A pretty-packed conference agenda is going to be published to announce an amazing conference program. At least 8 speeches per day will take place at CIMsystem booth involving the CIMsystem Technical Experts as well as technological partners such as: VHF, Redon, NewAncorvis, DGSHAPE, TRUMPF, GE Additive, OSG, Imes-icore and Tecno-Gaz. Machine builders, material and tools producers, 3 party labs, will speak about the powerful collaboration with one the worldwide CAM software development leader in dental manufacturing while presenting the latest innovations on the digital dental milling and printing process.
As mentioned, the stage will be the CIMsystem booth, located in Hall 3.1, booth 071K. Besides the partnered news, CIMsystem will be happy to present also its own innovations like the new functionality of aligner cutting via MillBox Milling CAM, the integrated process between the 3D printing software Pyramis and the refining milling software Make&Mill and FileHub, the new born product developed to optimize dental laboratory operational management.
Enhancing the performance of the hybrid production, an unprecedented solution will be displayed during the trade show. What if you could certify your dental machining? Thanks to an innovative software integration process and effective measurement, you will be able to provide not only high-quality restorations, but also job reports able to certify the manufacturing compliance regarding customer's requirement. Want to know how does it work? Meet CIMsystem Experts at get all the necessary information to raise your dental manufacturing quality standard.
JOIN US at IDS, on March 2023, book a demo with our technical expert and participate in our conference session. But bear in mind! Seats are limited.