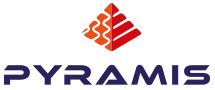 Open system for the management of 3D printing
Pyramis is able to be used with the most widespread existing technologies (DLP, SLA, SLS, SLM), enclosed in an appealing and optimized user interface according to customer's needs.
By combining these techniques with a good knowledge of the materials used, you can completely handle the printing process and therefore better manage the production quality.
The slicing result can be previewed, both in static and in dynamic mode. The dynamic one displays the growth of objects/supports and, for each layer, the image for DLP technologies or the laser path for SLA, SLM and SLS.
Pyramis also allows the configuration of different printers, thus giving maximum flexibility to the user in utilizing the product.