Software integrations
Reach out to the digitization of the machining process by realizing the entire manufacturing workflow with two single software.
Take advantage of 3D printing speed and cost effectiveness while keeping the high quality of milling process with Pyramis and Make&Mill!
How? In 3 simple steps:
1. Start a project in Make&Mill
2. Print in 3D with Pyramis
3. Refine milling in Make&Mill.
All in a very easy way. You can easily switch between the two software interfaces in just one click.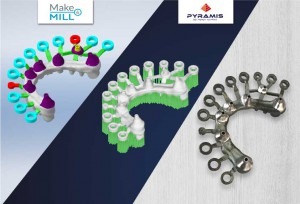 What is Make&Mill?
Make&Mill is a module that enables you to combine additive and subtractive manufacturing – all within a single application. It guides you through the nesting process for your sintering machine and produces toolpaths for refining restorations on your mill. Thanks to its precise management of material profiles on your sintering machines you can be sure you are printing properly scaled parts.