CIMsystem USA Partners with Level UP CAD/CAM to Provide Training for MillBox in North America
July, 2023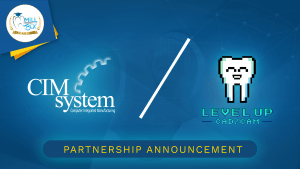 CIMsystem USA, a leading provider of dental CAD/CAM solutions, is excited to announce a partnership with Level UP CAD/CAM. As the official provider for MillBox training in North America, Level UP aims to improve lab tech and clinician access to CAD/CAM courses featuring MillBox and the manufacturing workflow.
"We are excited to partner with Level Up CAD/CAM to provide our customers with the best possible training experience for MillBox," says Luigi Fanin, Co-Founder of CIMsystem. "Michael Webb has a proven track record of providing high-quality training, and we are confident that his team will be able to help our customers get the most out of MillBox."
MillBox is a powerful CAD/CAM software that provides a comprehensive workflow for dental labs and clinics. MillBox includes a wide range of features that optimize and automate many aspects of the milling production cycle. Compatible with a wide range of dental equipment, MillBox is a versatile solution for labs of all sizes.
"We are excited to partner with CIMsystem USA to provide training for MillBox in North America" said Mike Webb, Founder of Level Up CAD/CAM. "MillBox is a powerful Dental CAM platform, and we are excited to help technicians learn to use the CAM to its full potential."
The partnership between CIMsystem USA and Level Up CAD/CAM is a positive sign for the outlook of digital dental manufacturing. As labs continue to adopt digital workflows, it is important to have access to high-quality training. This partnership will help to ensure that lab techs and clinicians have access to acquire the skills that they need to deliver the best outcomes for their patients.
CIMsystem USA and Level Up CAD/CAM are confident that this partnership will help to advance the digital dental industry and improve the quality of care for patients.