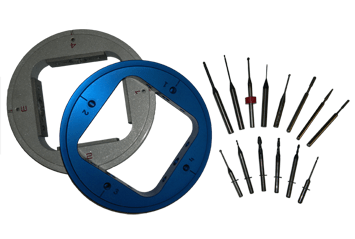 The Tools and Fixtures specially designed for the dental sector, allow the best integration between the machine tool and the software.
Our software is constantly updated in order to keep our customers abreast of the news with continually evolving technologies and materials. For this reason we research, develop and test tools and equipment that can greatly increase the performance and get state-of-the-art results for the customers.

Fixtures and tools are made
specifically to make it simple the processing of blanks (disks, blocks) used in the dental field.

Fixtures and tools not easily available on the market.
Clamping tools not available on the market and special tools specially made for uncommon processing.

Optimization for the machine comes first.
Equipment and tools specially made and optimized allow you to give value and take full advantage of your machine.

Find out more about the supported machines.
If you are interested in learning more: